Analisis Pembiayaan Murabahah pada Anggota KSPPS Karisma Kantor Cabang Grabag
Umi Hidayati

Universitas Tidar

Chaidir Iswanaji

Jurusan Akuntansi, Fakultas Ekonomi, Universitas Tidar

Ari Nurul Fatimah

Jurusan Akuntansi, Fakultas Ekonomi, Universitas Tidar
Keywords:
Pembiayaan Murabahah, Maisyir, Gharar, Haram, Riba Financing
Abstract
Murabahah financing is a sale and purchase agreement of goods at a price higher than the agreed cost between the seller and the buyer. The murabahah contract is very much in demand by the public, especially financing trading activities and managing the business activities of members. This search aims to find out how murabahah financing is carried out by KSPPS KARISMA Grabag Branch Office. This study discusses the implementation of murabahah contracts, procedures and implementation of murabahah contracts for members at KSPPS KARISMA Grabag Branch Office, as well as the suitability of the application of murabahah contracts with sharia principles. This research method is descriptive qualitative, by conducting interviews, observations and by collecting primary data and secondary data. The results of the study that have been carried out by the author show that the analysis of the financing of the murabahah contract is in line with the principles syariah. There is evidence that the financing did not find anything contrary to Islamic teachings. For example, terms that contain elements of maisyir, gharar, haram, and usury.
References
Darmalaksana, W. (2022). Buku Filsafat & Politik Hukum Islam Perbankan Syariah.
Ismail. (2014). Perbankan syariah (3th ed.). Jakarta: Prenadamedia Group.
Jamilah, N. (2018). PENERAPAN PRINSIP PEMBIAYAAN MURABAHAH PADA KOPERASI JASA KEUANGAN SYARIAH (STUDI KASUS BMT MANDIRI ABADI SYARIAH). 7(2), 44–68.
Kurniasih, N., Suherma, L., & Ardini, V. (2020). Analisa Pergerakan dan Perbedaan Harga Saham PT Bank BCA, Tbk Sebelum dan Sesudah Aturan Pre closing. Eksos, 14(1), 36-47. https://doi.org/https://doi.org/10.31573/eksos.v14i1.78
Merlita, G. (2019). Tugas Akhir "Analisis Pembiayaan Murabahah di KSPPS Binama Semarang."
Nugrahani, F. (2014). Metode penelitian Kualitatif (Vol. 1). http://e-journal.usd.ac.id/index.php/LLT%0Ahttp://jurnal.untan.ac.id/index.php/jpdpb/article/viewFile/11345/10753%0A
Sakum, S. (2021). Implementasi Akad Murabahah Pada Produk Pembiayaan Murabahah Di Koperasi Simpan Pinjam Dan Pembiayaan Syariah Baitul Maal Wat Tamwil Fajar Cabang Bekasi. Jurnal Ekonomi Syariah Pelita Bangsa, 6(01), 20–29.
Segara, T. (2019). Buku 2 Perbankan (Vol. 2).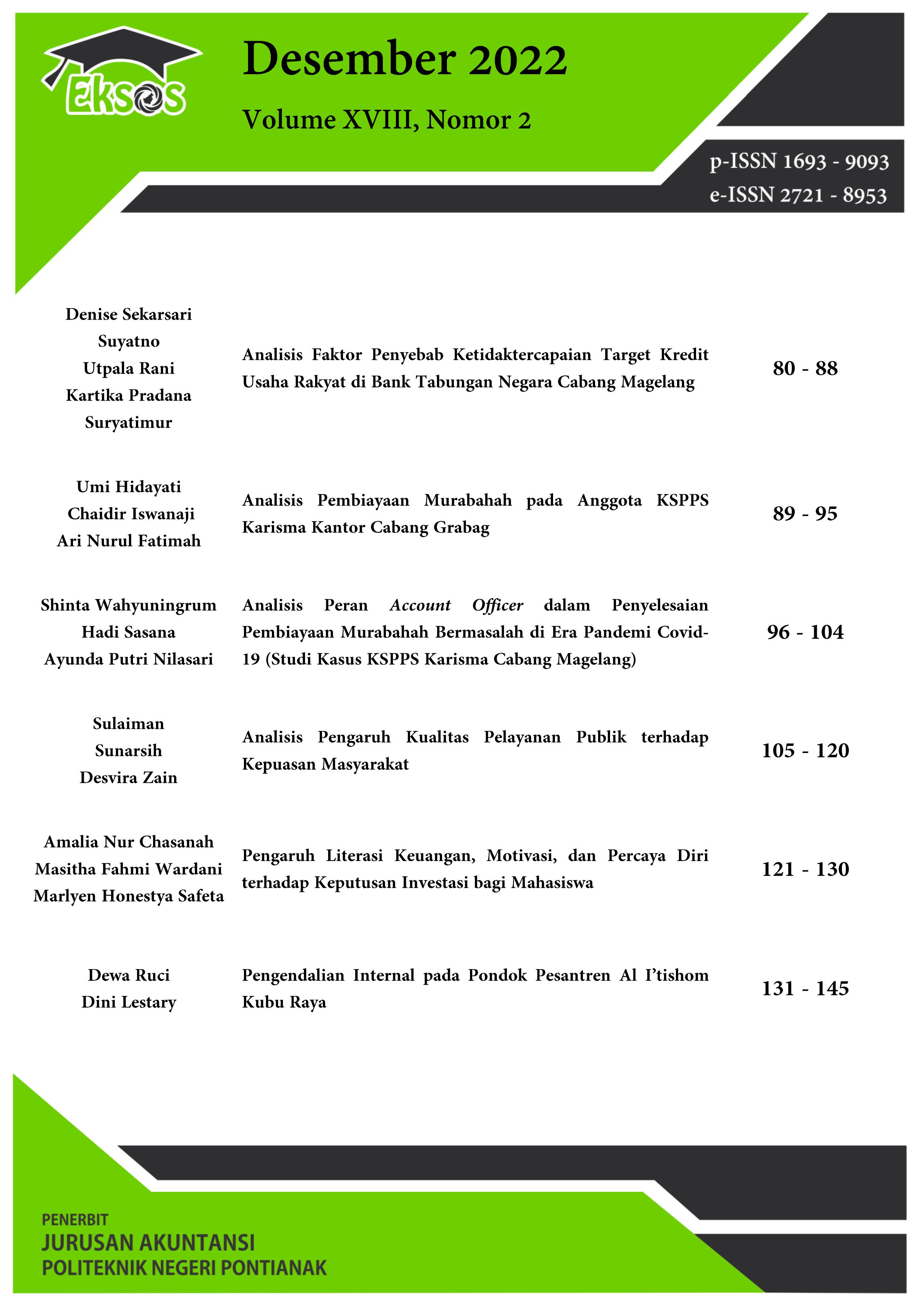 How to Cite
Hidayati, U., Iswanaji, C., & Fatimah, A. (2022). Analisis Pembiayaan Murabahah pada Anggota KSPPS Karisma Kantor Cabang Grabag. Eksos, 18(2), 89-95. https://doi.org/https://doi.org/10.31573/eksos.v18i2.449
This work is licensed under a Creative Commons Attribution-NonCommercial-NoDerivatives 4.0 International License.