Analisis Faktor Penyebab Ketidaktercapaian Target Kredit Usaha Rakyat di Bank Tabungan Negara Cabang Magelang
Denise Sekarsari Suyatno

Jurusan Akuntansi, Fakultas Ekonomi, Universitas Tidar, Indonesia

Utpala Rani

Jurusan Akuntansi, Fakultas Ekonomi, Universitas Tidar, Indonesia

Kartika Pradana Suryatimur

Jurusan Akuntansi, Fakultas Ekonomi, Universitas Tidar, Indonesia
Keywords:
performance targets, People Bussines Credit, Bank Tabungan Negara, Human Resources
Abstract
KUR is a program that is in great demand by the community, especially those who have entrepreneurs. Bank BTN Magelang branch has a KUR program but for the last 3 years it has not been able to achieve the target set. The purpose of this study was to identify the factors that caused the non-achievement of targets in the People's Business Credit (KUR) program at the Magelang branch of BTN. This research method is descriptive qualitative, using primary data obtained directly from interviews with related field implementers and indirectly through related document reports. The results of the research conducted indicate that the business process of the People's Business Credit (KUR) program at the Magelang branch of bank BTN goes through several interrelated stages, namely marketing, surveys or OTS (On-The Spot), credit analysis and proposals, documentation and administration, contracts. and disbursement, monitoring, and evaluation. In the program, there are several factors that caused the target not to be achieved, including the lack of competent human resources for implementing the KUR program system, non-optimization of the KUR program system, and unqualified customers causing delays in the KUR process.
References
Amanda, P., Tommy, I., Msi, F. L., & Ekonomi, J. S. (2015). Skripsi Kajian Penyaluran Kredit Usaha Rakyat (KUR) Pertanian Pada Bank BRI KAntor Cabang Dosen Pembimbing Ir . Celsius Talumingan . MP. Wds, ushds(dhjshfkjshf), 5.
Effendi, D., & Sunarto, N. (2020). Sistem Penanganan Kredit Macet di Koperasi Swamitra Wahana Putra Bengkalis. Eksos, 13(2), 82-93. https://doi.org/https://doi.org/10.31573/eksos.v13i2.62
Fiqri, K., Program, M., Manajemen, M., Ekonomi, F., Universitas, D. B., & Ratulangi, S. (n.d.). Analisis Kinerja Penyaluran Produk Kredit Usaha Rakyat (KUR) Di Kabupaten Minahasa (Studi Menggunakan Metode Importance Performance Analysis (IPA) dan Potential Gain Of Costumer Value's (PGCV)).
Fitriani Dwi. (2012). Fakultas Ekonomi Univesrsitas Andalas Skripsi Pengaruh Rasio Keuangan Bank Terhadap Penyaluran Kredit Modal Kerja (Studi Pada Bank Umum yang Terdaftar di Bursa Efek Indonesia.
Peraturan Menteri Keuangan Nomor 22/PMK.05/2010 tentang Perubahan Kedua Atas Peraturan Menteri Keuangan Nomor 135/PMK.05/2008 Tentang Fasilitas Penjamin Kredit Usaha Rakyat
Peraturan Menteri Keuangan Nomor 65/PMK.05/2020 tentang Tata Cara Pemberian Subsidi Bunga/Subsidi Margin Untuk Kredit/Pembiayaan Usaha Mikro, Kecil, dan Menengah Dalam Rangka Mendukung Pelaksanaan Program Pemuliham Ekonomi Nasional.
Marihot Tua Efendi Hariandja, D. ,Si. M. (2017). Manajemen Sumber Daya Manusia
Orlando, A., & Susanto, R. (2019). Mekanisme Pencairan Kredit Usaha Rakyat Pada Pt. Bank Rakyat Indonesia Unit Lubuk Buaya. Akademi Keuangan Perbankan, 1–10.
Putu, I., & Karyada, F. (2020). Analisis Pendapatan Asli Desa Setelah Penetapan UU No 6 Tahun 2014 Tentang Desa. 11(1), 1–5.
Widiastuti, Rita (2017). Apakah Kredit Usaha Rakyat (KUR) Berdampak pada Kinerja Usaha Studi pada UMKM Makanan Ringan Di Kota Salatiga. Jurnal Visi Manajemen, 2(2), 100–115.
http://beritamagelang.id (di akses pada tanggal 25 Mei 2022).
Kasmir. 2016:3. Dasar-dasar Perbankan, edisi revisi 2014. Jakarta: Rajawali Pers
Karmila. 2010. Kredit Bank, edisi 1. Yogyakarta: Yogyakarta KTSP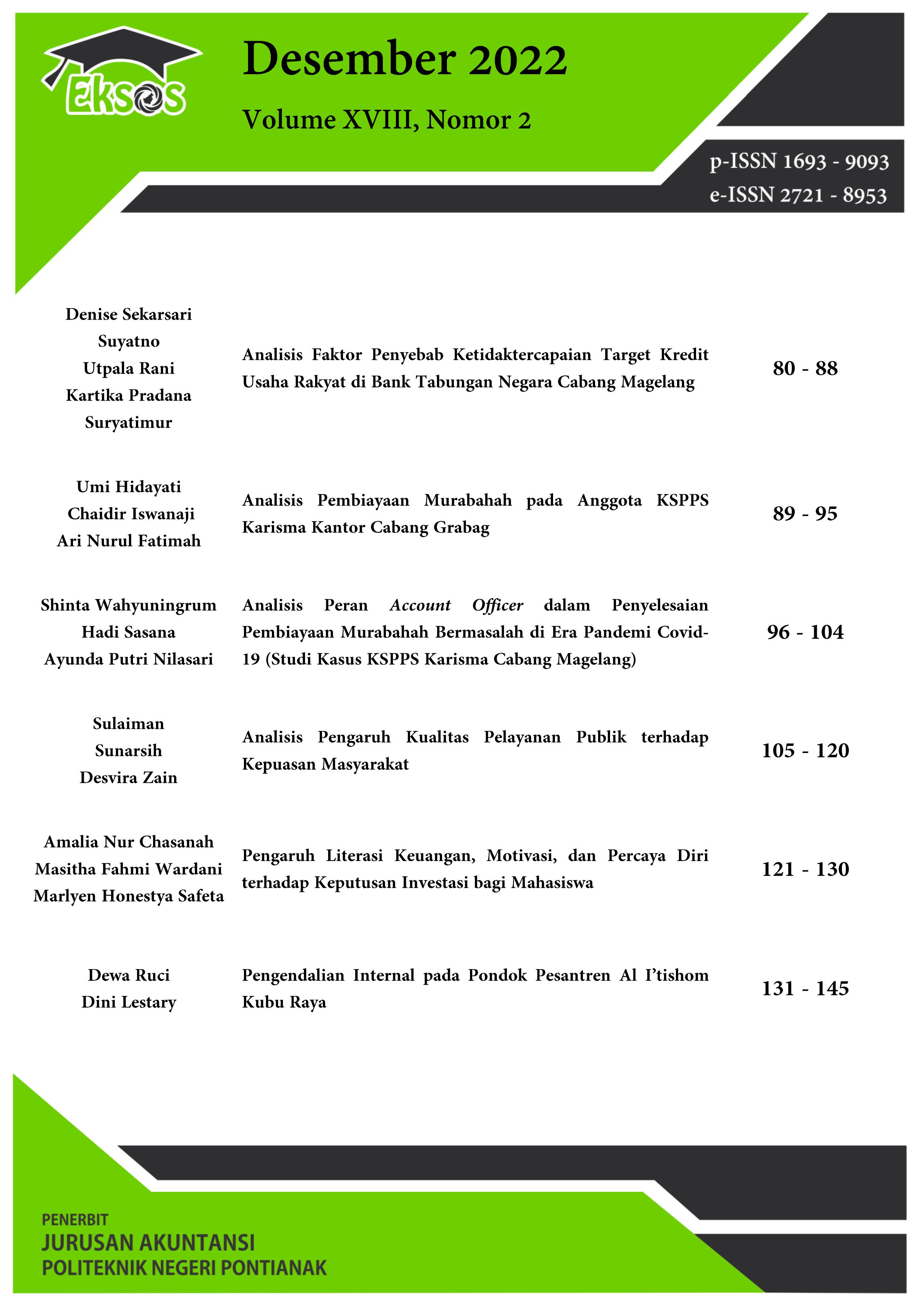 How to Cite
Suyatno, D., Rani, U., & Suryatimur, K. (2022). Analisis Faktor Penyebab Ketidaktercapaian Target Kredit Usaha Rakyat di Bank Tabungan Negara Cabang Magelang. Eksos, 18(2), 80-88. https://doi.org/https://doi.org/10.31573/eksos.v18i2.444
This work is licensed under a Creative Commons Attribution-NonCommercial-NoDerivatives 4.0 International License.