PERANCANGAN STRUKTUR BETON BERTULANG GEDUNG KAMPUS II POLITEKNIK NEGERI PONTIANAK 8 LANTAI TAHAN GEMPA DI KOTA PONTIANAK
PERANCANGAN STRUKTUR BETON BERTULANG GEDUNG KAMPUS II POLITEKNIK NEGERI PONTIANAK 8 LANTAI TAHAN GEMPA DI KOTA PONTIANAK
Nur Ismiatul Laila

Politeknik Negeri Pontianak

indah rosanti

rasiwan rasiwan
Abstract
The rapid development in the field of education in order to obtain a superior successor of the nation so
that progress and increase in welfare are realized for all Indonesian people. As the population increases, so does
the need for educational facilities. The improvement of higher education facilities and infrastructure is needed to
facilitate the teaching and learning process. The development carried out certainly needs to pay attention to
several aspects, one of which is the effect of the earthquake. Earthquakes always attack the joint structure so that
the structure is designed with the moment-bearing frame system method with the concept of strong columns and
weak beams combined with shear walls so that the building can dampen earthquake vibrations.
The 8-storey earthquake-resistant Pontianak State Polytechnic campus II building is located on Jalan
Jenderal Ahmad Yani, Pontianak City, West Kalimantan Province. The building consists of 8 floors with a height
of 30.7 meters from the ground, reinforced concrete structure. Based on the results of the Standard Penetration
Test (SPT) this building will be erected on soft soil conditions (SE site class), included in the Seismic Design
Category (KDS) D, then the calculation of this building uses the Special Moment Resistant Frame System
(SRPMK) combined with walls shear so it is called the Dual System Method. Earthquake load planning uses the
2017 Indonesia Earthquake Map using the response spectrum method according to SNI 1726-2019. Calculation
of loading according to SNI 1727-2020 and PPPURG1987, and structural concrete requirements for buildings
according to SNI 2847-2019. Structural analysis using SAP2000 application assistance
The results of the calculation of the floor slab obtained 1 type of plate measuring 14 cm with 10 mm
reinforcement for the ground floor to 7th floor, 9 mm reinforcement for non-floor floors; the dimensions of the
main beam structure are 20 × 40 cm with D19 main reinforcement, the dimensions of the sub-beam structure are
20 × 40 cm with D16 main reinforcement; column dimensions 80 × 80 cm with 16D25 main reinforcement, lift
column dimensions 30 × 30 cm with 12D16 main reinforcement; 1 type of sliding wall 15 cm; ladder plate 12 cm;
pile foundation 30 cm.
References
[1] Anonim. (1961). Undang – Undang
Republik Indonesia Nomor 22 Tahun 1961
tentang Perguruan Tinggi. Jakarta:
Kementerian Pendidikan, Kebudayaan,
Riset dan Teknologi.
[2] Anonim. (1987). PPPURG 1987. Pedoman
Perencanaan Pembebanan Untuk Rumah
dan Gedung. Jakarta: Yayasan Badan
Penerbit Pekerjaan Umum.
[3] Anonim. (2006). Peraturan Menteri
Pekerjaan Umum Republik Indonesia
Nomor: 29/PRT/M/2006 tentang Pedoman
Persyaratan Teknis Bangunan Gedung.
Jakarta: Yayasan Badan Penerbit
Pekerjaan Umum.
[4] Anonim. (2011). Rancangan Standar Sarana
dan Prasarana Pendidikan Tinggi Program
Pascasarjana dan Profesi. Jakarta: BSNP.
[5] Anonim. (2013). Peraturan Daerah Kota
Pontianak Nomor 2 Tahun 2013 tentang
Rencana Tata Ruang Wilayah Kota
Pontianak Tahun 2013 – 2033. Kalimantan
Barat.
[6] Anonim. (2019). SNI 1726-2019. Tata Cara
Perencanaan Ketahanan Gempa Untuk
Struktur Bangunan Gedung dan Non
Gedung. Jakarta: BSN.
[7] Anonim. (2019). SNI 2847-2019.
Persyaratan Beton Struktural Untuk
Bangunan Gedung dan Penjelasan.
Jakarta: BSN.
[8] Anonim. (2020). SNI 1727-2020.
Persyaratan Beton struktural untuk
bangunan gedung dan penjelasan.
Jakarta: BSN.
[9] Asroni, A. (2010). Balok dan Pelat Bton
Bertulang. Yogyakarta: Graha Ilmu.
[10] Asroni, A. (2010). Kolom Fondasi &
Balok T Beton Bertulang. Yogyakarta:
Graha Ilmu
[11] Hardiyatmo, H.C. (2010). Analisa dan
Perancangan Fondasi Bagian 1.
Yogyakarta: Gadjah Mada University
Press.
[12] Nawy, E.G. (1990). Beton Bertulang Suatu
Pendekatan Dasar. Bandung: PT. Eresco.
[13] Schueller, W. (2001). Struktur Bangunan
Bertingkat Tinggi. Bandung: PT. Refika
Aditama.
[14] Wang, C.K., & Salmon, C.G. (1985).
Desain Beton Bertulang Jilid 1. Jakarta:
Erlangga.
[15] Wang, C.K., & Salmon, C.G. (1992).
Desain Beton Bertulang Jilid 2. Jakarta:
Erlangga.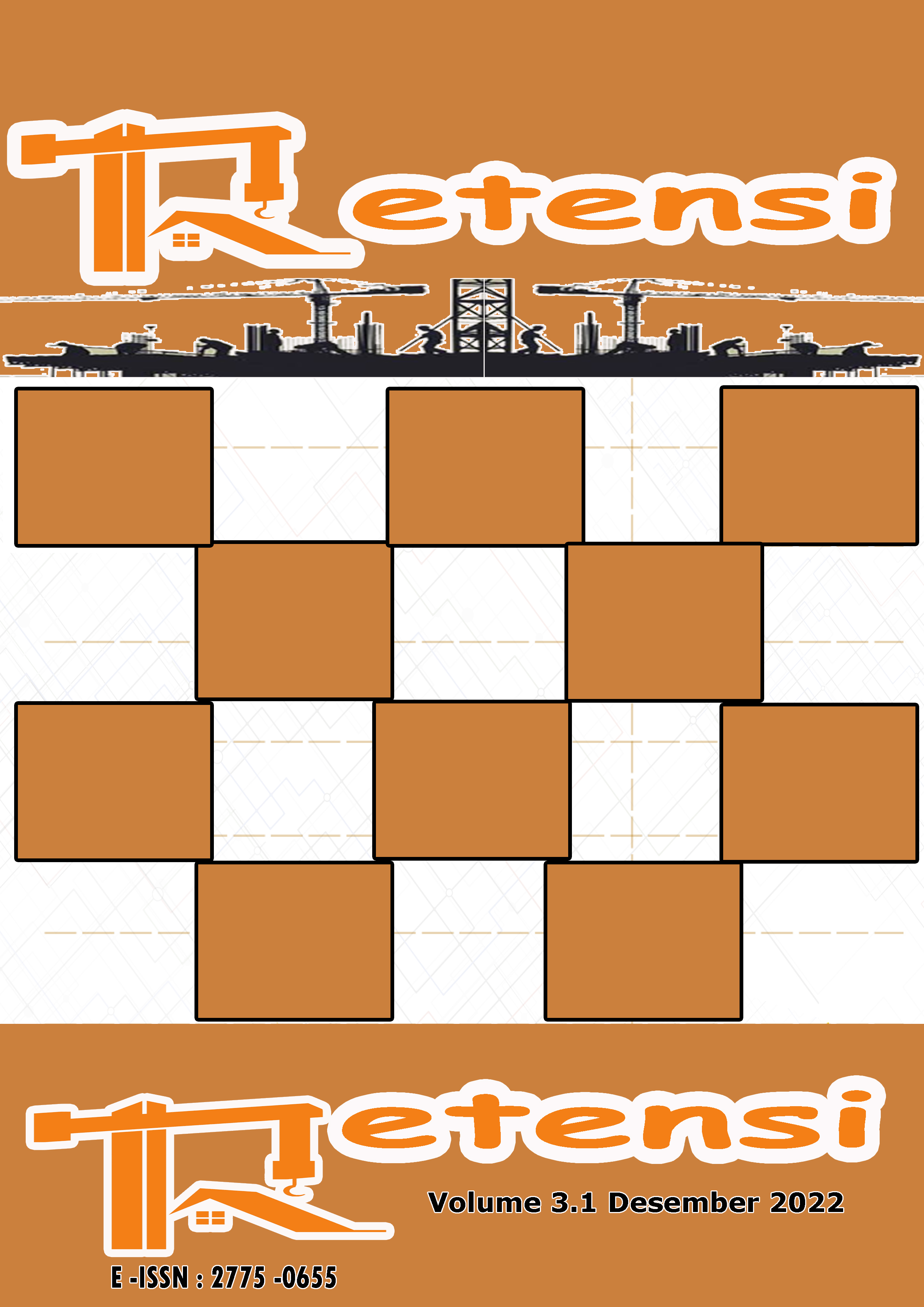 This work is licensed under a Creative Commons Attribution 4.0 International License.