PERENCANAAN MANAJEMEN KONSTRUKSI PADA PEMBANGUNAN GEDUNG ASRAMA LEMBAGA PENJAMINAN MUTU PENDIDIKAN PROVINSI KALIMANTAN BARAT
PERENCANAAN MANAJEMEN KONSTRUKSI PADA PEMBANGUNAN GEDUNG ASRAMA LEMBAGA PENJAMINAN MUTU PENDIDIKAN PROVINSI KALIMANTAN BARAT
rizka rusmin evita dewi nuryadin

teknik sipil

watini Agus

Politeknik Negeri Pontianak
Abstract
Project management is an important factor in the implementation of a project, which will affect the cost, time
and quality. Problems that result in interrelated planning, scheduling, control and are the main requirements for
every project success, in these problems there will be many influencing factors, to achieve maximum results in a
building construction project, a mechanism is needed that can increase the efficiency and effectiveness of
project management. of available resources. This can be realized through a management planning system that
meets the criteria for cost (budget), time (quality), human resources (labor), and a field work safety system.
The method used in this management plan is to compare the analysis of the labor unit using the SNI method and
the BOW method, and to obtain a budget plan for both methods. In time management, namely counting the
number of jobs in each item, making the Critical Path Method (CPM), making bar charts, and making S curves,
aspects of human resource management are calculating the number of workers on each work item, Occupational
safety and health management is knowing the hazards and work control health, knowing personal protective
equipment and knowing work protective equipment.
Based on the SNI method, the Cost Budget Plan (RAB) is Rp. 6,300,380,000.00 and based on the BOW method
of the Budget Plan, the amount of Rp. 9,745,770,000.00, with a Plan time of 120 days or 17 weeks.

References
[1]Badri S, (1997); Dasar- Dasar Network
Planning, Rineka Cipta, Jakarta.
[2] Darmadi H, (2011); Metode Penelitian,
Alfabeta, Bandung.
[3] Hasibuan M, (2014); Manajemen Sumber
Daya Manusia, Bumi Aksara, Jakarta.
[4] Husen A, (2009); Manajemen Proyek, Andi
Offset, Yogyakarta.
[5] Ibrahim H, (1993); Rencana Dan Estimate
Real Of Cost, Bumi Aksara, Jakarta.
[6] JE Rowings dkk, (1996); Engineering and
Management, American Society Of Civil
Engineers.
[7] Keraf G, (1997); Komposisi, Gramedia,
Jakarta.
[8] Koontz H, (1982); Essentials Of
Management, New Delhi, Tata McGrawHill.
[9] Mondy RW, dan Robert M. Noe, (1995);
Human Resource Management, Ally &
Bacon, Macsachusetts.
[10] Rani AH, (2016); Manajemen Proyek
Konstruksi, Deepublish, Yogyakarta.
[11] Soeharto, (1995); Manajemen Proyek,
Erlangga, Jakarta.
[12] Soemadi, (1998); Manajemen Biaya Proyek,
Graha Ilmu, Jakarta.
[13] Sofjan A, (2014); Seminar Nasional Riset
Inovatif II: Implementasi Kebijakan
Sertifikasi Guru, Universitas Terbuka
Tanggerang.
[14] Stephens, (1985); Pengertian Bekesting,
http://e-journal.uajy.ac.id, Diakses tanggal 25
mei 2021.
[15] Sugiyono, (2001); Metode Penelitian Bisnis,
Alfabeta, Bandung.
[16] Suma'mur, (1992); Higine Perusahan dan
Keselamatan Kerja, CV Haji Mas Agung,
Jakarta.
[17] Zed M, (2003); Metode Penelitian
Kepustakaan, Yayasan Pustaka Obor
Indonesia, Jakarta.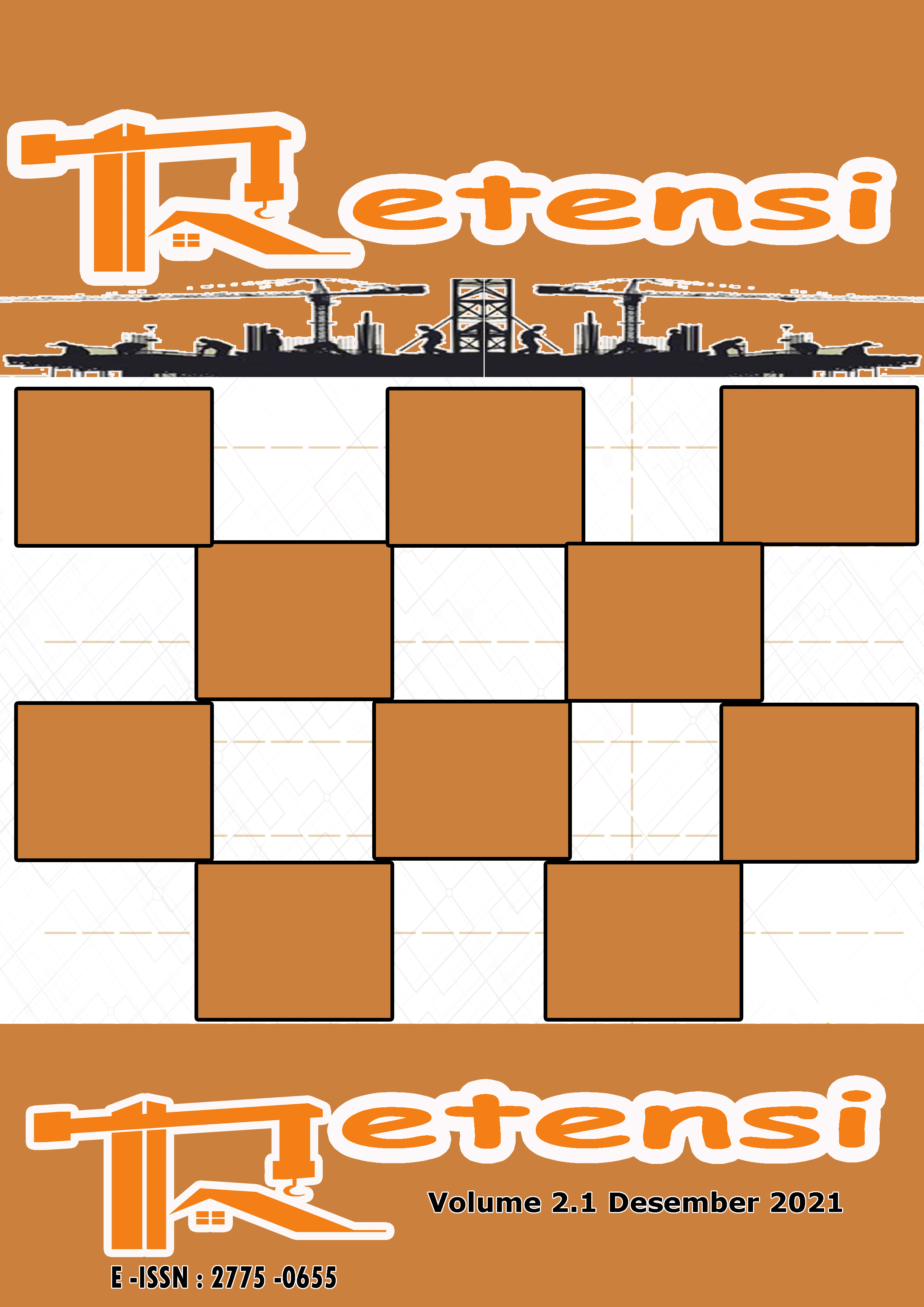 This work is licensed under a Creative Commons Attribution 4.0 International License.