Pengenalan Energi Surya sebagai Energi Alternatif pada Kelompok Pemuda RT 10/RW 40 Pringwulung
Bambang Sudibya

Adisutjipto Institute Of Aerospace Technology

Freddy Kurniawan

Adisutjipto Institute Of Aerospace Technology

Lasmadi Lasmadi

Adisutjipto Institute Of Aerospace Technology

Dedet Hermawan Setiabudi

Adisutjipto Institute Of Aerospace Technology

Abdul Haris Subarjo

Adisutjipto Institute Of Aerospace Technology
Keywords:
Solar Energy, Karang Taruna, Alternative Energy
Abstract
Karang Taruna, is a social organization for the development of young people who grow and develop on the basis of social awareness and responsibility. Karang Taruna carries out its strategy optimally in order to be able to foster the younger generation, one of which is by holding meetings by inviting resource persons. This community activity in partnership with Karang Taruna aims to provide knowledge to members. Material in the form of solar energy as an alternative energy source. At the beginning of the activity, community service activity modules were distributed in the form of material on alternative energy and solar energy and a pretest to obtain initial data on participants' knowledge of alternative energy and solar energy. The community service activities for this youth group were divided into four sessions, the first session was pretest, the second session was presentation of material from resource persons, the third session was about questions and answers, the fourth session was posttest. The result of the activity was an increase in the knowledge of participants in community service activities from 26 participants, initially the participants' understanding was 73% good, 20% sufficient, 7% less increased to 93% good and 7% sufficient. This shows that community service activities are in line with expectations. In general, community service activities run smoothly. Participants took part in all sessions of community service activities. The activity participants were quite enthusiastic in participating in community service activities. In the question and answer session the participants were also quite active and enthusiastic.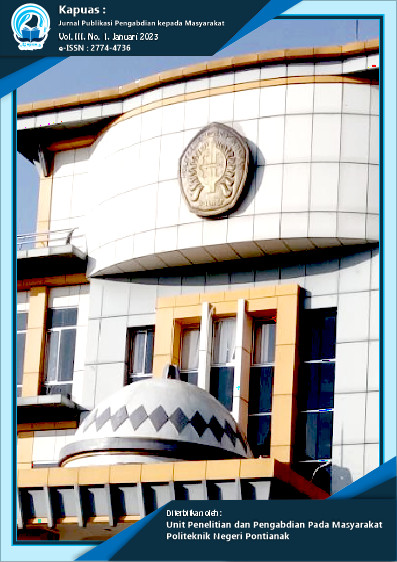 How to Cite
Sudibya, B., Kurniawan, F., Lasmadi, L., Setiabudi, D., & Subarjo, A. (2023). Pengenalan Energi Surya sebagai Energi Alternatif pada Kelompok Pemuda RT 10/RW 40 Pringwulung. Kapuas, 3(1), 1-5. Retrieved from https://ejurnal.polnep.ac.id/index.php/JK/article/view/520
This work is licensed under a Creative Commons Attribution-NonCommercial-NoDerivatives 4.0 International License.